!




Click on picture for hyper link to City of Portland links OREGON LIVE

I have posted a most worthy notice of a fundraiser for Transgendered Youth
I will also present some information for counseling for Transgendered youth Families in the near future


 
 
 
 
 
 
 
 
 
 

Thanks to the efforts of TransActive Advisory Board member Aaron 
Ridings and Commissioner

Deborah Kafoury, the month of December will be declared "Transgender Child Awareness Month" in Multnomah County, Oregon.

Last year, the City of Portland made a similar declaration for the first week of December, becoming the first municipality in the nation to recognize the lives and challenges of transgender children, youth and their families in this way. This year, Multnomah becomes the first county in the nation to issue such recognition, expanding it to the entire month of December.

Excerpt:

The Multnomah County Board of Commissioners finds, whereas:

Transgender and gender non-conforming children and youth are among the least understood, most marginalized and 
underserved of populations despite constituting at least 1% of all children and youth;

The Multnomah County Board of Commissioners 
proclaims:

The month of December 2011 as Transgender Children Awareness Month, a month of special importance and worthy of recognition of the citizens of Multnomah County.

The proclamation will take place at 9:30 AM on December 1, 2011 at the Multnomah County Board of Commissioners building, located at 501 SE Hawthorne Blvd. in Portland. It is open to the public and TransActive Executive Director Jenn Burleton will be speaking.

 
 
 

More Headlines:

SuperHeroes for SuperKids! Update

Executive Director Jenn Burleton on KBOO radio tonight

TransActive

in Tijuana

 
 
 
 
 
 
 
 
 
 
 
 
 
 
 

or...

Send your check/money order to:


TransActive

1631 NE Broadway St
Ste. 355-T

Portland, OR 97232

 
 
 
 
 
 
 
 

And there's more...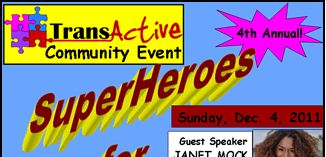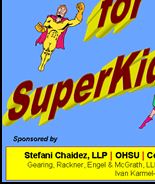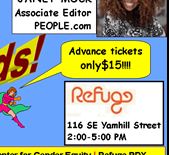 TransActive provides a full range of support services including Child and Family Therapy, Community Education, and Advocacy to improve the quality of life of transgender and gender non-conforming children.
Trans Youth Active Counseling Pamphlet


Thank you for your time,

Thomas

--

* * * * * * * *

Thomas Cordova, Program Coordinator

Write Around Portland

http://www.writearound.org/

503.796.9224




The Jim Collins Foundation provides grants for Gender Dysphoria patients
JimCollins Foundation.htm
2010 Physicians Assistant OHSU Presentation on Gender Dysphoria
Esprit 2010 MTF Hormone Presentation This is the PowerPoint presentation given at Esprit in Port Angeles
Hair Restoration
For years I have looked for an excellent resource for surgical hair restoration. Many of the procedures I have seen have not been very satisfactory. I had an opportunity to hear Dr. Steven Gabel , who is a board certified plastic surgeon who has professional interest in helping transgendered individuals. I found him to be highly informative and knowledgeable. I have often thought one of the neglected areas of transition is hair preservation and restoration. I would highly recommend him. Steven Gabel, MD web site.
A website I became aware of at Esprit that is worth a visit Over The Rainbow Transformations
Lewis and Clark Presentation November 24, 2009
American Medical Student Association Presentation December 5, 2009
Portland Psychological Association Feb 18, 2010
To my patients who teach me far more than I ever pass on to them, I am grateful for the honor of caring for you. I wish I could devote more time to my website. I hope it is helpful and if there is something local that individuals would like to have added I would glad to do so. I try to avoid politics and rhetoric as the internet is rife with this.
Mailing Address
1631 NE Broadway
Suite 355-T
Portland, OR 97232
For information contact:
Jenn Burleton
503-927-7052
jenn@transactiveonline.org
Portland, OR (November 10, 2009) -

TransActive Education & Advocacy will be hosting its Second Annual Silent Auction on Sunday, December 6, 2009 from 2:00-5:00 PM at the Horace Long Photography studio in Portland, Oregon. TransActive was the first U.S.A.-based non-profit organization dedicated exclusively to providing a full range of services that benefit transgender and gender non-conforming children and youth age 18 and under. It remains the only national organization founded by a trans woman that focuses on transgender children, youth and their families.

Date: Sunday, Dec. 6th, 2009
Time: 2:00-5:00 pm (bidding closes at 4:00 pm)
Where: Horace Long Photography, 3432 SE 18th St., Portland, Oregon

Live Music - Drinks - Hors d'oeuvres

I will try now that some other projects are out of the way to be more prompt on updating this and adding some new topics.
A new resource is project E.Q.U.A.L. http://www.projectequal.com . This is a six hour LGBT specific relationship workshop providing counseling in relationships and families and has a weekly addictions recovery group.
I have lectured at the OHSU Physician Assistants program for the sixth year. One of the doctors there said that only a few doctors have the expertise that I have with transgendered individuals. I don't know if that is true or not. I think if I know anything it is from those who have taught me and not otherwise. The loss of my friend Susan Vaughn makes me realize that however great, our contributions are small and in the end to much confidence begets error and ego. I hope this website does some small good and that we treat each other as if our meeting in life is a rare and happy occasion for celebrating our existence and desire to serve others
I have included an article from Australia that may shed some light on the biological reason for transsexuals
New link to Dr Jennefir Burnett website http:// drjenspage.com Dr Jens Webpage
This is devoted to Christian treatment of transsexuals
I have recently had several requests for letters and medication refill requests. Because of HIPAA laws I cannot respond to these by my regular email: sara@sarabecker.com . If there is a need for these items they have to be directed to my office directly at 503-659-4988 If you are seen at the Old Town Clinic they must be directed to that office at 503-241-3838.
but here is the presentation from Esprit on MTF hormones for 2009. My deep appreciation for all the courtesy and friendship therI have talked about hormones at Esprit 2008 in Port Angeles and renewed many old acquaintances
I am grateful for the courteous and kind way I have always been treated there. It is hard to put
into words my fond feelings for the many fine people who put on the Esprit program and allow
me to participate in some small way. I have included this presentation below
Esprit 2009 PowerPoint Presentation
I presented at the Gay and Lesbian Medical Association in Seattle on October 23, 2008.
It is my second time I have had the honor to be a lecturer. Below is the PowerPoint presentation
This year has been a good year in that I have traveled to many states to discuss care and treatment of transgender and GLBT individuals. I particularly had a enlightening time at the Gay and Lesbian Medical Association in Seattle, Washington on October 23, 2008 . I had a warm reception to a discussion on hormone therapy in transgender patients as well as an opportunity to discuss youthful patients. I wish to thank GLMA for their kindness and particularly Becky Allison, MD who is as kind and charming in person as her website would indicate. She is also the incoming president of The Gay and Lesbian Medical Association. An organization I am pleased to be part of. She did a tremendous job.
The Methods and Outcomes in 675 Male to Female and Female to Male Transsexuals
Presentation at Gay and Lesbian Medical Association October 2008
TransYouth Family Advocates announces campaign for transgender suicide awareness
HOLLAND, MI– Today, TransYouth Family Advocates (TYFA) launches the Amethyst Ribbon Campaign, an awareness project to battle suicide among transgender youth.
The Amethyst Ribbon Campaign was established as part of the Ian Benson Project. Ian was a 16-year old affirmed male who took his own life in October 2007. Ian's mother, TYFA's secretary/treasurer, hopes to help other children and families avoid the pain and struggles that can lead to suicide among trans youth.
"Transgender" (or the abbreviation "trans") describes people whose gender identity or expression differs from expectations for their physical sex characteristics or sex assigned at birth. Recent estimates conclude approximately 1 in 500 people seek surgical reassignment during their lives, with many more expressing their gender in other ways. Studies suggest that among gay, lesbian, bisexual, and trans youth, 50% end up ideating or attempting suicide before adulthood.
TYFA President Shannon Garcia described the symbolism of the Amethyst Ribbon Campaign. "The brilliant violet color of amethyst is also a blend of the pink and blue traditionally used to designate the male/female binary. Amethyst is a precious gem, chosen to represent how precious trans children are to their families and friends."
TYFA Executive Director Kim Pearson said, "Ian was our friend, he was the friend of our children, he was part of our hearts and the hearts of his family. To keep Ian's memory alive, we will help other families and children by telling the stories of our children and families, to reach out to the other Ian's of the world. We can help them and their families find the answers. In honor of Ian and all transgender people, we ask that you share this message and vision."
TransYouth Family Advocates is a coalition of parents, friends and caring adults dedicated to educating and raising public awareness about the medical and cultural challenges faced by children with gender variant and gender questioning identities and the families who love them.
To learn more about the Amethyst Ribbon Campaign, please visit the TYFA website at www.imatyfa.org or call 1-888-IMA-TYFA. The site includes information and resources for trans youth and their families.
I recently received an email from an individual who offers services to cross dressers and transgendered. I have placed the email below

Greetings, My name is David aka Tiffany, as you have guessed I am a cross dresser. My heart extends to all that practice that craft in what ever form, publicly, privately, trans gender or performing drag queen. I own a business located in Portland, Oregon that caters to that need, it is named Honestly Her, (www.honestlyher.com). Honestly Her is dedicated to giving the attention to detail that is needed to create a more acceptable appearance that will not only satisfy the image that the client wants, but a more believable public presentation.
I was honored to speak to the Providence Milwaukie Residency program on 10/24/2007. It is the first time I have had the opportunity to address a group of physicians in training. They were most gracious in their reception. The talk I gave was a variation of the one below on medical care of the transgendered. I was also honored to have Dr. Desmond Johnson who is renown for his work. I believe that if physicians who are in training have some exposure to this medical condition perhaps all who are like us will have merciful care at their hands. After the kind invitation and reception I am most hopeful that transsexuals will not be medical outcasts.
On April 28, I delivered the following talk to The State Physicians Assistant conference on medical issues in the Transgendered
Medical Care for the Transgendered
Medical Care for Trangendered. handouts
I have some other pending invitations that I am considering. I still volunteer at the Old Town Clinic which has graciously continue to allow me to work there. I have always be
made to feel welcome. At the end of the day, what we do for others of free will is the true coin of the realm
in redeeming ones soul.
A recent website I recommend is The Northwest Gender Alliance http://www.nwgausa.com/oregon.htm
A recent website I visited was Laura's Playground. I recommend it highly. It is aimed at preventing transgender suicide. See:
Laura's Playground: Transsexual, Crossdresser, Transgender, Gender Dysphoria, Transgendered Chat. Transexual, Crossdressers, Transvestite
I had the great honor to work on an article for Bloomberg news regarding transsexual athletes
The link is
This year has been a good year in that I have traveled to many states to discuss care and treatment of transgender and GLBT individuals. I particularly had a enlightening time at the Gay and Lesbian Medical Association in Seattle, Washington on October 23, 2008 . I had a warm reception to a discussion on hormone therapy in transgender patients as well as an opportunity to discuss youthful patients. I wish to thank GLMA for their kindness and particularly Becky Allison, MD who is as kind and charming in person as her website would indicate. She did a tremendous job.
I have the permission to add a Adolescent psychiatrist Dr Paul Meyer-Strom as a resource for patients. See Therapists and Doctors in the Portland Metropolitan Area
TransYouth Family Advocates are a national group advocating for young transgenderd individuals. They can be reached at the following location
I am pleased that more and more services for youth are becoming available through the efforts of the above individuals and their organizations

Note--if you carry syringes and injectables on an airplane, be sure to get a note and prescription
so that the Transportation Safety Administration officers do not confiscate it
There are many beautiful poems by individuals I have met. I was given permission to print an essay on Transsexuals and God written by Jennifer Burnett, MD. It is called The Answer. I have included another work passed on to me-- Why Women Cry I also have been given permission to publish a series of poems by
Cheryl Lynn Poems by Cheryl Lynn
A web site for older Ts is Transgender Aging Network
I am frequently asked to write letters for patients for procedures and the State Department for Passports. For information on this see: Letters.
In the last six months I have talked at the Colleges of The University of Oregon , Portland State University, and Lewis and Clark College.
I was honored to talk at the IFGE conference in Philadelphia in April, 2006.
I had the opportunity for the first time to lecture July 11. 2006 at Grimes Hall in front of the Physician Assistant Program. The program is available as a Power point Presentation at
PowerPoint Presentation at OHSU PA Program 7/27/2006
I had the opportunity to meet with Barbie Scott, a speech therapist with special skills in helping the MTF Transsexual to improve their feminine manner of speech. Often it is the beard and speech which betray transgendered MTF. I believe her to be a valuable resource and much less expensive then voice surgery. She can be found under Therapists
I have updated the list of therapists and physicians who are available and friendly to transgendered individuals. I have also updated information of hormones in the hormone section


I have encountered an excellent web site in England that looks at the scientific evidence for the biological basis for transsexuality. See Causes of Transsexuality
The purpose of this web site is to provide timely information to transsexual patients that live in the Portland Metropolitan Area. It is initially designed to assist
transsexual patients that I care for in my practice to find local resources
that they may access.
I hope to provide a list of health care professionals, support groups, beauty aids and links to other pertinent resources for these individuals. Absence of a name does not in any way imply a professional is not a helpful resource. I have tried initially to include only names of individuals that I know to be very helpful to transitioning transsexuals. Please note, that I am required to remind the user that this is general
information and not a substitute for guidance by a knowledgeable
physician.
I have finished an essay on what I have learned about transitioning from
the hundreds I have talked to and treated. It is an abbreviated text on how
to transition. It is called Seasons--A Song of Transition.
I have added a section on special needs transsexuals that I hope will grow
with time. Currently I have listed a person who can sign for deaf individuals.

One of the most important parts of being transgendered is the effect of religion on the
ones life. I have added a new section which with time I will add to.
I hope to develop resources also for FTM patients for whom I have a growing respect
and understanding of.

I had the honor to speak for a transgendered individual in court recently. I am encouraged
that the legal system can deliver justice to transgendered individuals if we help each other and others to understand that this is a medical condition recognized throughout the world as such and deserving of respect.
A special note. On December 2, 2004, in the small town of Mebane, North Carolina, a physician
just like me and a wonderful friend opened her solo Family Practice with the help of
her community. Although she is not in Portland, she is another transgendered
family MD who is out in the United States. Her name is Dr. Deanna Jones and her
address can be found in the list of Medical Clinics
An interesting article dealing with employment and Gender can be found at Grossman Transsexuals, Dress Codes, And The Law.htm
Recently, it was my pleasure to meet a very special person who has the gifts to help many
who struggle with health issues. She possesses a special gift in her ability to compose
poetry. She also carries within her a faith that is beautiful to behold. I have Jennifer's
permission to publish some of her poetry here. See Jennifer's Poems
I have been privileged to participate in a yahoo talk group for trans health professional. A great deal of energy has gone into discovering why we are as we are. Although some of the theories are enticing, in the end, a rock does not spend time wondering why it is a rock. We should spend more time determining how to help each other in a world that is oft unkind and misunderstanding. For, if one peers close enough, we are all unique
n God' Eyes. It is that which makes us different should bring us together. The political events of the last year should have taught us all that we need to reach an understanding among all the factions of Proposition 36. There are solutions. We do not need to invent them. They are out there. There must be a willingness
to find them.
This site is dedicated to all those who struggle for a life that lies beyond
the beliefs and understanding of many who are not two-spirited. It is possible to achieve the life long dreamed of. If we do not care for each other, then we are all alone.
Sara K. Becker, MD
Welcome to Sara Kristine Becker
Special Thank You To: Ashley Hall, and Dee and all
those who allowed their names to be used.


I also which to especially thank Michael Whitbeck, an extraordinary person who has
been consistently supportive of what must have been the most unusual challenge to
face a medical clinic administrator and to Pam Shuh, my site administrator
. To Emily and to Amanda who were advocates for the impossible. I also wish to thank David McAnulty, MD a colleague who wears
many hats all of them well. To my partners and staff who have made so many feel welcome
To my partners at Northwest Primary Group, PC for whom my strangeness
at times must have been difficult. They have treated me with tolerance and
grace.
Without these remarkable individuals, none of this would be here.
Sara K Becker, MD all rights reserved
11/26/2011 05:28 PM